If you're a frequent reader of this blog, you already know this is an amazingly talented group of makers. What you may not realize is that there are a variety of ways that you can support us in our efforts!
Buying our products is the most obvious – and we make it easy! All group members have online shops through Storenvy, Etsy or have made their own websites. Links to each shop can be found on the members directory page
. The page is organized by category, so you can click to see an overview of our group and the diverse products we create. Browse our shops - you never know what goodies you are going to find.
Fairs and events provide another way to show your support for Handmade in KC. We keep a list of where you can find us on our events page
or you can check out Larissa's post from last week about the different summer events in KC. You can meet makers face to face, learn about the story behind the products and if you are lucky, even get to try out the merchandise....Aunt Christy's Country Kitchen offers samples of her fantastic jellies and jams at her booths!
Aunt Christy's Country Kitchen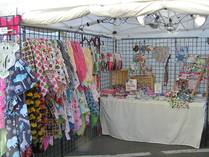 Creations by M and J
You can also find some of the Handmade in KC members in local stores!
Ivory Isis - Monkey Wrench Clothing (KCMO),
Luna Coffeehouse (NKC)
Hang-Ups - Nelson-Atkins Museum Gift Shop,
Parkville Artisans Studio (Parkville, MO),
Kansas City Symphony Alliance Pop-Up Shop at Kauffman Performing Arts Center
Even if you don't want to make a purchase, you can still help out! The easiest way to help each and every member of Handmade in KC is to help us spread the word! You can tell your friends, family, and even strangers about the wonderful things you have seen online and in person. Sharing our blog posts and following not only the group on social media, but the individual members as well (remember that link up above to the members page?? You will also find buttons for all of our social media!) Sharing, liking and commenting gets more eyeballs on our products – plus it build our maker-self-esteem!